Where there is love, there is pain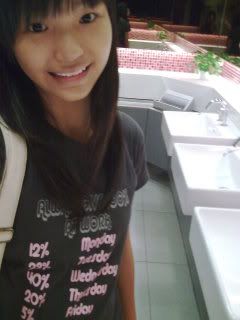 My mum finally bought a weighing machine for me.
But it is not accurate at all , damm it .
And my mum is rushing me to buy books , never ending reminder.
Maybe wednesday gg to buy books :)
And and i'm going for a haircut SOON , *weets .
Everyday is so boring , and without money , it's even BORING!
With a boring attitude , you can't do anything right.
Haish , actually i got a night- time job , pay (Great)
But i need someone to pei me go work , anyone wants?
If no one could pei me , i guess i cannot work sia ):
*Sighh , finding a job is more difficult than working .
Have a brief update on yesterday !
Went to my ahma house in the evening , *cheers.
Went down to the playground with my cute cousins .
(Suddenly i miss the time hanging out with my neighbours).
Every time i saw children playing in the playground , i realised
I AM ALREADY A GROWN UP KID , (means i old liao)
Lol, kinda sadd sia ><
After tat went back , ate dinner .
Then we played a game called "The sickbay"
Which i am supposed to act like i am sick while my other cousins will tc of me.
After playing , went home (:
Here goes a small conv of what my big cousin says ;
Don't open your eyes (when she applied "cream" on my eyes)
Don't move your mouth (when she applied "cream" on my mouth)
Don't breathe (when she applied "cream" on my nose)
Funny right ? How can i dun breathe ? LOL.
Today !
Woke up at 10.30am in the morning , early right? :P
Went to meet jamie , settle some issues.
After tat she went my house , took the cookies .
Then went back , meet xiaohui @ lot 1.
Played ddr , this time we played all rounds expert .
Super tired wor >< , my legs became so wobbly.
Then went food junction , ate pepperlunch *nice nice
After tat went to dunearn sec with xiaohui ( last min decision)
Pei her watched basketball match @ there , nothing much.
ONE VERY FUNNY THINGY .
Got a guy wore bpian pe-shirt but he's from bukit merah .
OMG las , i kept on staring @ his attire with big eyes .
Cause i tot i see wrong mahh , LOL .
Funny guy ><
After tat went to cc .
Chit-chat + Slack then went back home (:
Ending my post with my monkey bidding goodbye(: